Colors is a hi-energy, hi-tech dance and game birthday party place for kids and teens. Special effects like black lights, strobe lights, colored lights, lasers, robots, smoke, bubbles and more. No one has more special effects on a dancefloor than we do, period.
Whether you are 6 years old or 16, Colors Birthday Party Place has the perfect party package for you. There are two birthday party themes to choose from: ages 6-10, and ages 10-19. Both birthday party themes are two and a half hours long, but birthday parties for kids feature more contests and games.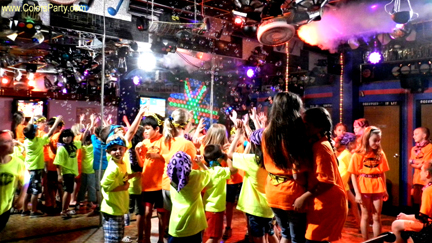 Kids birthday party activities include dancing (disc jockey playing age-appropriate music, dozens of line dances), and access to more contests and games than you've seen in one place before.
Kids birthday parties feature line dances like the Hokey Pokey, the Cha-Cha Slide, the Chicken Dance, the Electric Slide, the Macarena, the Cupid Shuffle, the Cotton Eyed Joe, the YMCA, Jump On It, the Wobble, and many others.. The Hi-Energy atmosphere of Colors and energetic birthday party DJ gets everyone involved, for non-stop dancing and fun. At Colors, even most of the non-dancers dance. And for the birthday party kids that don't, there are thousands of free games on the 9 computer systems each with a 22" screen. There are also chat phones to talk on, free video game stations, and much more.
Birthday party activities, games and contests for the 6-10 age group include the Limbo, Bubble-Gum-Blowing and Cookie-Eating contests, the Maraca Madness game, the Techno Chairs game, the Statue-Freeze Dance contest, hulla-hooping, and more. The winner of each contest receives party leis, and
at the end of the party, whoever is wearing the most number of party leis is declared the party champion.
And of course, between all the games and fun, there are plenty of songs for everyone to sing and dance to.
As our parent company Occasions Music also owns a wedding reception DJ company, Acclaimed Entertainment, you can be sure
your kids birthday party will have all great musuc. Our DJs has all the great songs to play - we have virtually every song birthday party kids ever heard of - from the oldies to the latest released tunes.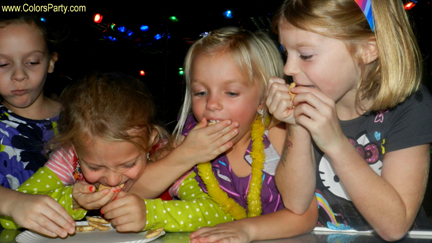 The following section covers the Parent responsibilities and our prices.

A totally private party at our birthday party place, including 48 slices of pizza, and unlimited drinks, for all your guests, no matter how many you have, including adults, up to 71 people total -- costs just $295. The included 48-slices of pizza (4 12-cut pizzas) serve 24-30 guests. Additional pizzas are just $10 each.
This is a flat rate. It doesn't matter whether you have 10 guests at the party or 71. This price covers everything - the room, the DJ, 48-slices of pizza, all the pop everyone can drink, the games, and even cleaning up afterwards. It's a totally private party - just your group, no one else. We don't charge a per-person fee because, quite frankly, the more people you invite, the more parties we book! Kids absolutely love Colors, and we've found that we'll book another party for every 10 guests you invite.
Included in the above price is 4 12-cut pizzas (48-slices), and all the pop guests can drink, for everyone at your party. Pizza is provided exclusively by Cristiano's Pizzeria, and we handle all the details.
At the party, aside from entertaining the birthday party kids and teaching them line dances and running contests, we will handle all birthday party activities. We will cut and serve your cake, organize the opening of the gifts(writing it all down), and WE'LL EVEN TAKE OVER 100 PHOTOS of your entire party! We'll take photos of the limbo, the cookie and bubble-gum blowing contests, dancing, a famiy photo, the cake and much more. Here's the best part: As we take the photos, they are immediately projected on to the multiple video screens throughout the room (one is 8 feet wide) for all the parents and kids to see. The slide shows of the photos we take continuously scroll on the screens throughout the entire party. As we take new photos, they are added to the slide show automatically for everyone to enjoy. Before the end of the party all these photos are uploaded to the past party facebook page, so when parents go home they can download their favorite photos of their kids FOR FREE. If you haven't yet been to our past party photo page, go to it by clicking here. It will open in a new window. There are tens of thousands of photos of past party fun there. At the end of your party, you can visit that site to download (or share via facebook with your friends) any or all of your over 100 party photos. To save time downloading all your photos, you may choose to purchase (from us) a USB flash drive with all of your party photos on it at the end of the party, the cost is just $20. Additional USB drives of the photos (for grandparents, treat bags, etc) are just $10 each. Keep in mind that if you purchase a USB drive, the photos will still be on the past party facebook page for other parents to download their kids photos. Also keep in mind that it is NOT necessary to purchase a USB drive, this is just an option that will be offered to you at the end of your party. You can always download your photos FOR FREE after your party from home.
The only item you need to bring with you to the party is a cupcake birthday cake. If you choose to have an actual cake they needs cut instead of a cupcake cake, be sure to bring a knife, as we don't have knives in the building. We recommend a cupcake birthday cake to save more time for dancing.
We don't require any money down to book your party, you just pay at the end of the party with a personal check or cash. If you'd like to pay with a credit card payment must be made in advance online.
Pizza and drinks are served one hour into the party, and from that time on drinks stay up. Drinks are unlimited. How is that for value? Try and find a birthday party place with unlmited drinks.
SAFETY RESPONSIBILITY: Keep in mind that while it is our job to entertain the birthday party kids, it is YOUR JOB to make sure the kids are safe and behaved. We are NOT a daycare. You must ensure you have enough parents to watch over all of your guests - this is your party and you are totally responsible for anything that could happen to all of your guests. Again, we will handle all the games, contests and dances, photos, and gifts, but you are responsible for everyone's safety. Colors is designed for older kids, 6 & up - It's not equipped with bumpers or soft rubber edges. While we do not recommend you have kids under the age of 6 in the facility, that decision is up to you – you may invite anyone of any age, just please understand that you are totally responsible for their safety, as well as everyone else. We designed Colors to be one room with no walls so everyone can always see everyone else, but nevertheless, you should insure that you have enough parents to adequately supervise the kids. As far as contests and games, of course everyone, including adults are welcome to join in. It's your party, you can do whatever you wish there—as you are responsible.
Decorations and Atmosphere: Colors is strictly a Party Center designed for birthday parties for kids, so it's already decorated. There is no need for you to bring decorations. The tables all have bright colored coverings. The walls are all brightly colored and are decorated. The Ceilings are covered with hundreds of lights and special effects such as smoke, bubbles, lasers, strobes, beams and more. The carpets are a confetti pattern. The entire 40 foot wall on the dance and activities floor is covered with mirrors - kids love watching themselves dance.
People are constantly telling us how their kids birthday party was the best and most organized party they've attended. Call today and make your next party the talk of the town....